A microgrid is a small-scale power production and delivery system comprising distributed generation facilities co-located with the loads they serve. Microgrids encompass multiple types of energy generation resources, storage systems, and efficiency programs, allowing for optimal utilization of renewable energy resources and facilitating advanced energy management, demand response, and load reduction solutions.
Microgrids are able to be connected to the utility grid to purchase power from the grid or sell power back to the grid as conditions dictate. Microgrids can be designed to operate "islanded" when the utility grid is not available.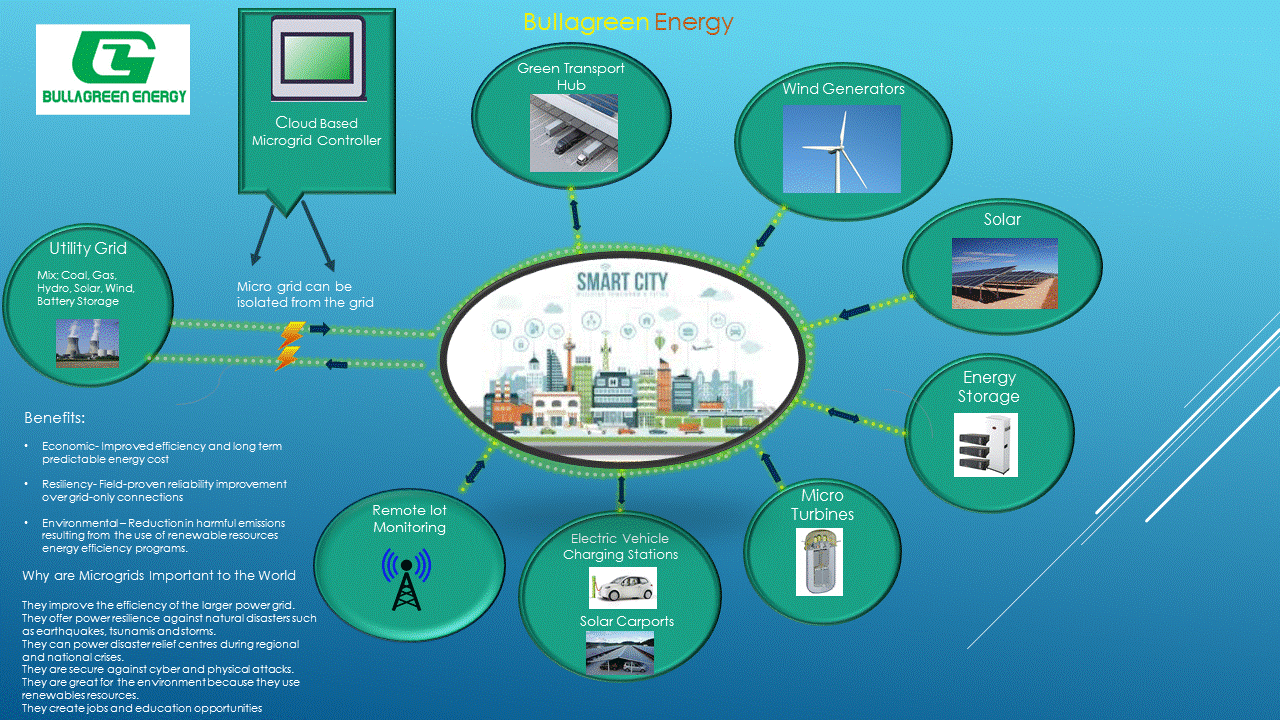 Benefits:
​
Economic- Improved efficiency and long term predictable energy cost

Resiliency- Field-proven reliability improvement over grid-only interconnections

Environmental – Reduction in harmful emissions resulting from optimal use of renewable resources and energy efficiency programs.
Why are Migrogrids Important to the World
​
They improve the efficiency of the larger power grid.

They offer power resilience against natural disasters such as earthquakes, tsunamis and storms.

They can power disaster relief centers during regional and national crises.

They are secure against cyber and physical attacks.

They are great for the environment because they use renewables resources.

They create jobs and education opportunities.
A mini-grid is an off-grid electricity distribution network involving small-scale electricity generation. Often conflated with microgrids, and as being disconnected from utility-scale grids
​
The Morrison government will use next week's budget to roll out funding for micro-grids in regional and remote communities, including in the hotly contested electoral battleground of north Queensland.
The budget is expected to include a new $50.4m fund to support exploratory work for up to 50 projects in regional and remote communities, with feasibility studies investigating whether building a micro-grid is cost-effective and whether existing off-grid capabilities can be upgraded with more up-to-date technology.
Micro-grids are discrete power systems using diesel or renewable power that can either operate completely off the electricity grid, or connect to the grid. With energy costs high and with transmission infrastructure suboptimal in parts of the country, micro-grids, increasingly favoured by farmers and miners, have become a growing component of Australia's power infrastructure.
The energy minister, Angus Taylor, has faced pressure from Nationals to give MPs bearing the brunt of a regional backlash concrete commitments they can sell to their constituents ahead of the election on new power generation, and measures reducing power prices.
Taylor says as the cost of providing off-grid electricity continues to fall, "in some cases it will be cheaper to provide off-grid supply rather than maintain and replace the long power lines that connect remote customers to the grid".
He says moving some remote customers to off-grid solutions will deliver more reliable energy supply, deliver savings on network costs and could also reduce bushfire risks.
Taylor says funding feasibility studies will allow customers to establish whether a micro-grid is a viable option, or determine whether to transition from diesel generators to "local generation and storage opportunities" – meaning firmed renewables.
Those projects could also find additional taxpayer support from agencies like the Australian Renewable Energy Agency and Clean Energy Finance Corporation.
A report in 2018 that examined the potential of concentrated solar technology with storage in Australia found that some users in fringe-of-grid locations would be able to leave the network while maintaining reliability standards and lowering power costs.
It found the optimal configurations in these kinds of locations "would include a hybrid of photovoltaics (PV) with a small battery capacity to manage transitions, concentrated solar technology, and a standby diesel system".
The solar-plus-battery-plus-diesel systems were put to the test in 2016 in what was dubbed the SPS Great Southern Trial. According to Western Power, the six properties involved in Western Australia were spared from more than 90 hours of outages in a single year.
The 57 microgrids – two of which are nanogrids – will be run and maintained by Hybrid Systems, BayWa r.e. and the other providers for two years after installation is complete. According to Western Power, the entire network will create close to AUS$6 million (US$4.28 million) in cost savings compared to more conventional alternatives.